Billown Neolithic Landscape Project
---
The Billown Quarry Site Excavations

The main focus of the excavations is the land immediately west of the current Billown Lime Quarry. This is the land immediately threatened by the expansion of the quarry and is therefore a priority for rescue work.
In 1995 efforts were devoted to carrying out a full field evaluation of the site using a combination of techniques: geophysical survey (gradiometry and magnetometry), test-pitting to quantify topsoil content, targeted trenching to check anomalies revealed on the geophysical surveys, and geochemical studies (magnetic susceptibity, total phosphates, and soil pH) to look for indicators of past land-use. The results of this work showed that the whole field contained archaeological deposits, and that in some areas they were extremely well preserved below the surface of the ground even though no earthworks were visible at ground level.

In 1996 work began on the systematic open-area excavation of the whole site. This is a substantial undertaking, by the far the largest piece of archaeological excavation ever carried out on the Island. It is also one made more difficult by the fact that glacial till is amongst the most intractiable type of subsoil to work on in terms of the legibility of archaeological features.


Having extensively sampled the topsoil during the field evaluation, the excavation trenches were mechanically stripped of cultivated soil. Below this level all excavation is undertaken by hand. As is usual on prehistoric sites, the relationships between features depends heavily on horizontal stratigraphy, although at Billown there is considerable intercutting of features and in a few places vertical stratigraphy still survives. At this stage in the Project, post-fieldwork analysis is still rudimentary and aimed at constantly refocusing data-collection for the next season's work rather than general synthesis. This particularly applies to the environmental sampling of carbonized plant remains and buried soils. However, it is clear that there was activity on the site, although not necessarily continuously, from about 5000 Cal BC through to about Cal AD 600. The evidence for this is briefly summarized in the following subsections according to conventional cultural-historical periodization.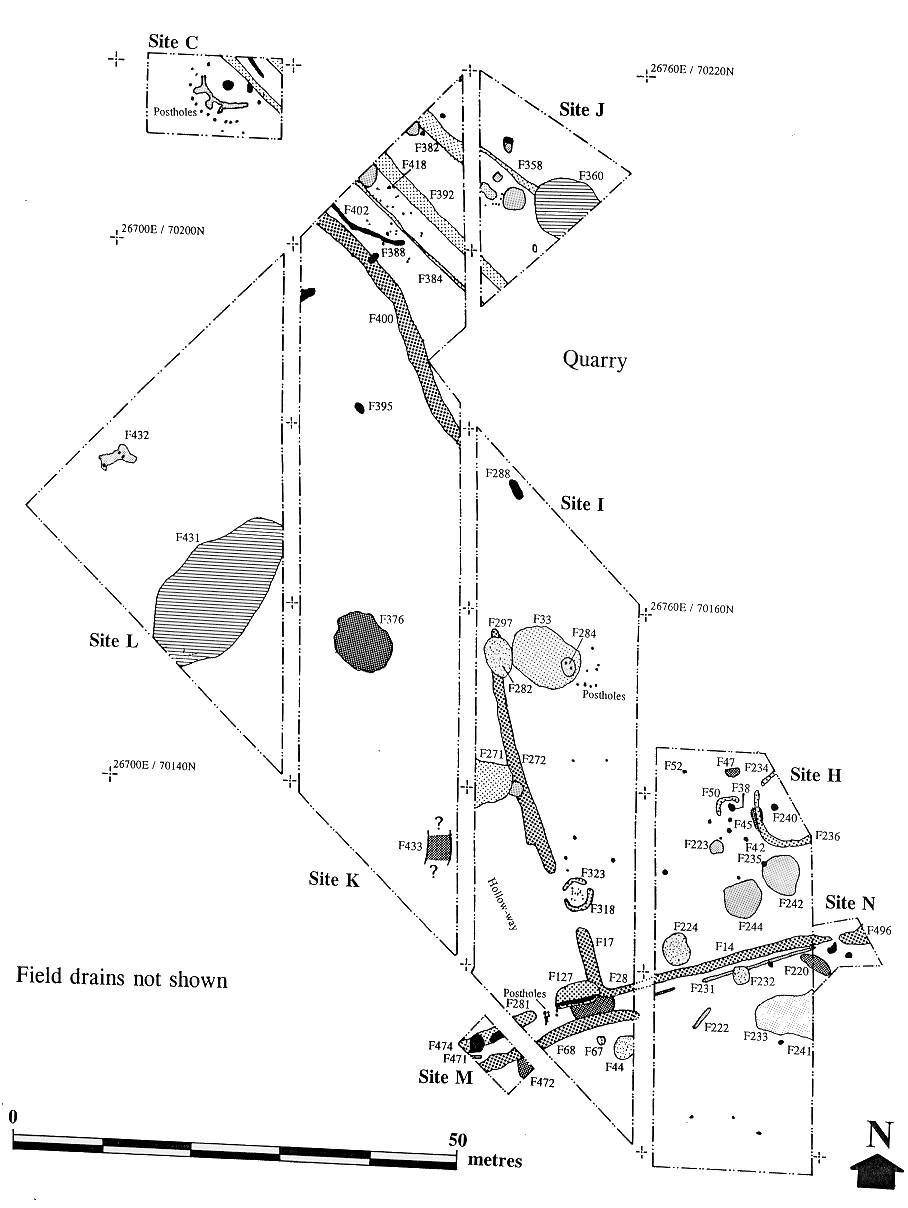 ---
---